LA Bars Begin To Require Proof of Vaccination
More than a dozen bars have changed their COVID-19 policies as cases surge.
Next time you go to the bar, make sure to bring your ID and your vaccine card (if you have one). L.A. TACO has learned that more than a dozen bars — including The Short Stop, Footsie's, Blind Barber, Bar Henry, The Lash, Melody Lounge and Gold Diggers Bar — have updated their COVID-19 policies within the past several days, and more are likely to follow.
At the establishments listed above, patrons must show either proof of vaccination or a negative test result within 72 hours of arrival. At the Echo Plex, host of the popular Dub Club night, on top of everyone being required to wear a mask (per L.A. County guidelines), they will temporarily stop accepting cash, and only small plastic, vinyl, or see-through handbags will be permitted (to reduce staff contact with belongings).
These changes come in response to the recent surge in COVID-19 cases. Between the 4th of July and last Saturday, when the new county order for everyone to mask while indoors went into effect, the daily number of coronavirus cases quadrupled. 
Stories You Should Read:
The once-thriving street food gathering is home to some of L.A.'s newest taco powerhouses like Perro 110 and Los Sabrosos al Horno, and now they got the support from Cudahy's vice mayor, too.
Last week I broke the story, the city is removing hundreds of portable sinks and toilets that they distributed to homeless encampments at the start of the pandemic as COVID-19 cases surge.
On a hot Sunday afternoon, people enjoyed raspados and a plate of tacos with a side or cars hitting switches. There was also a live band, too, and everyone danced the day away.
Photo-journalist Samanta Helou-Hernandez explores Latinx L.A. through the lens of her 35mm camera in this collaboration with HyperAllergic.
---
Spectrum News 1 reporter Kate Cagle had me on her show again to give an update on my investigative series on hygiene stations for L.A. TACO. Here's a clip of our conversation:
Los Angeles is ending the program that provided hand-washing stations and restrooms to the unhoused during the pandemic, just as the county requires masks again to stop a surge in Covid-19 cases. Thanks
@ShotOn35mm
for coming back to update us. More:
bit.ly/3ipP0tT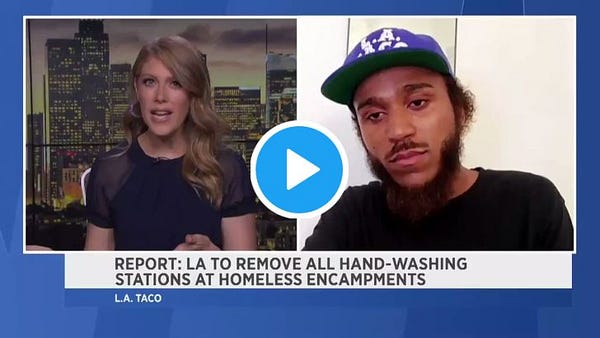 Lexis-Olivier Ray @ShotOn35mm
➡️L.A. County reported more than 1,600 new COVID-19 cases today (#'s are down due to reporting lag) ➡️Since July 4, daily cases have 📈 more than 250% ➡️Unvaxed people account for more than 99% of new cases ➡️@lapublichealth described the recent #'s as "very concerning" @LATACO https://t.co/YffH95VhoY
---
Being a freelancer is grueling. Purchase a print/zine to support my work. Or send me some taco funds via Venmo please! Appreciate the support in advance.
---
Spread the word, share this newsletter with someone who you think will appreciate it. Feel free to reach out to me with news tips as well LexisOlivier@Gmail.com.